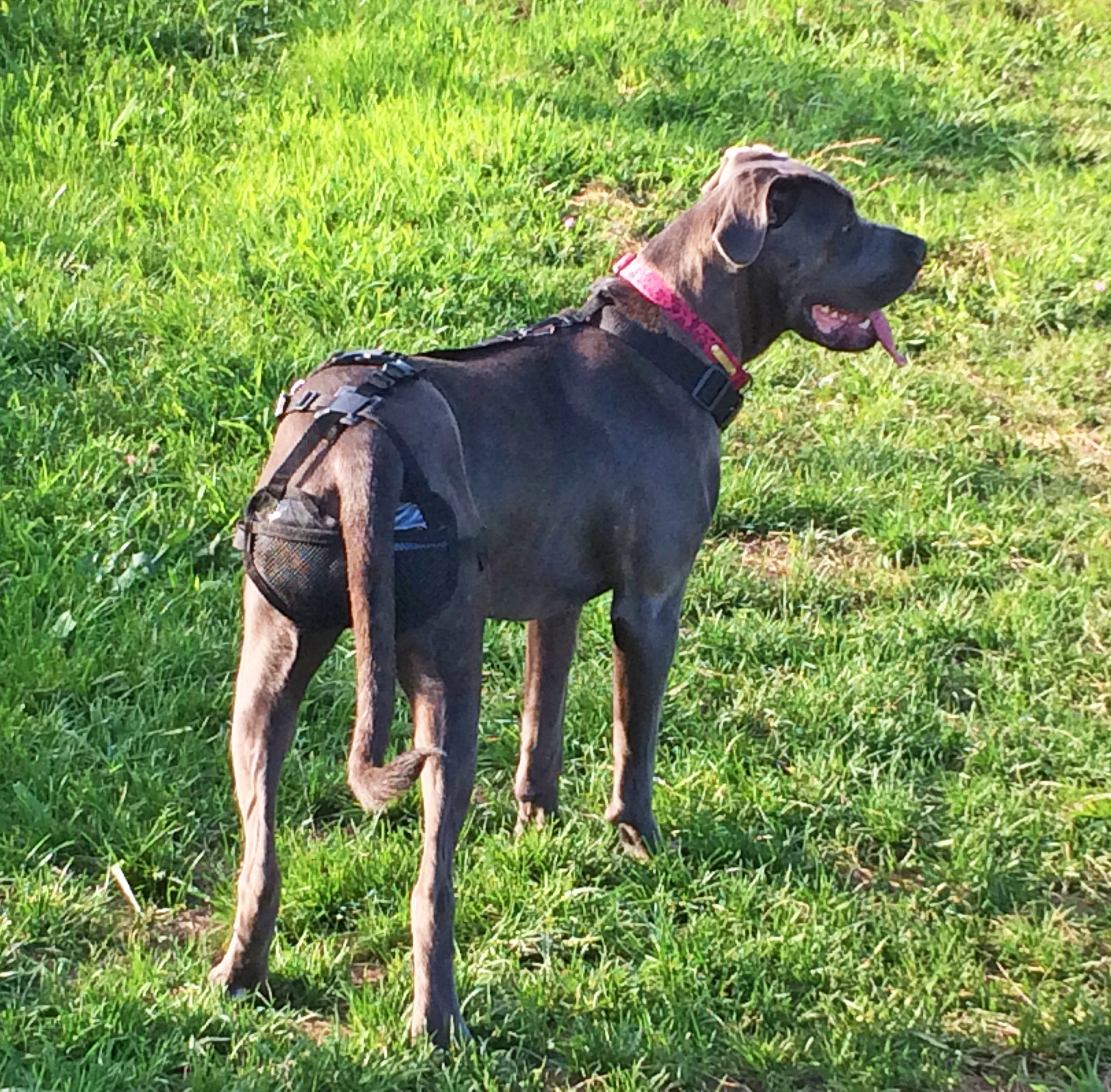 What You Can Learn From DIY Dog Diapers
FACT: The biggest problem with conventional dog diapers is that they don't stay where you put them. Whether you are using dog diapers to help with house training or you are using them to protect your flooring when she is in heat, you know that eventually the dog diaper will fall around her ankles. And, it will fall sooner rather than later.
For DIYers, getting a dog diaper to stay on the dog's rear-end seems easy to do. For example, a DIY dog diaper YouTuber named bobl69 explains in his 50 second video "How to Make Suspenders for a Diaper-wearing Dog," using men's suspenders (viewed over 12K times).
In a slightly longer 10 minute video titled, "Stretchable Straps to Secure Dog Diapers and Belly Bands," Dog Quality gives DIY tips on how to adapt its Stretchable Straps to ensure that a dog diaper (or belly band) doesn't slide off (viewed over 14K times).
But, these DIY videos don't present the only solutions for keeping your dog's rear-end covered when house training or when she is in heat. Highly Favored Creations, LLC (HFC), a small company out of Shreveport, LA, sells the Delay her Spay Harness for pet parents wanting to keep their floors and furniture clean without the fear of the harness slipping off!  The harness's design is superior to conventional dog diapers in that the Delay her Spay Harness includes a back strap that connects the harness's rear protector to the dog's collar to make sure the rear protector stays in place. (DIY dog diapers use suspenders to do the work of the Delay her Spay back strap.)
The rear protector includes a sanitary pad (the "Sani-T Pad"), that keeps your external surfaces clean when you have your dog inside. And, since the Delay her Spay Harness's rear protector is made of mesh, she can relieve herself through the mesh when you send her outside with the Sani-T Pad removed. As an added bonus, the rear protector is heart-shaped so that she defecate over the top of the protector with no mess left behind – pun intended. (See how the Delay her Spay Harness works!)
So, instead of trying to find a way to keep conventional dog diapers in place, DIY doggie diaper enthusiast, and pet parents everywhere, should consider the Delay her Spay Harness. I would encourage you to visit their website, or contact them by phone (318.655.4368). This company prides itself in its customer service. And, you can tell they really love dogs!
Go to the website and buy yours today!
Contact Information:                                                                                                                        
Dexter Blanch
Delay her Spay Harness, The Dog Chastity Belt Company
Shreveport, LA 71119
Customer service: (877) 224-7706
Customer Service email: info@delayherspay.com
Website: http:www.delayherspay.com
YouTube Channel:  https://www.youtube.com/user/pabsforpets/videos